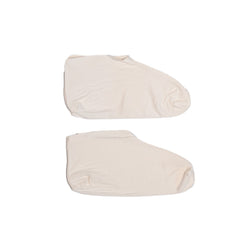 Our moisturising socks to support the deep penetration of creams, oils or balms.
Our moisturising socks are designed to improve the condition of dry, rough feet and accelerate the absorption of nourishing skincare products. Made from wonderfully soft, natural, unbleached and undyed bamboo. Use with our Foot Cream or Rescue Balm.

Extra warmth of the socks helps to open pores and moisture is retained.
Apply nourishing balms and slip your feet into the socks.
Use overnight or 2-3 times a week for 20 minutes.